I recently started the dreaded task of going through the never ending boxes that seem to multiply while I sleep. I found one that I had put a bunch of random stuff in from when I was pregnant with my first baby. The best find was a nearly brand new skein of yarn. We used it to play a game. We passed it around with a scissors and then everyone had to cut the length they thought was my lovely circumference. Later, I used the longest piece(which was way to long!) as a border to one of her scrapbook pages.
Anyway, the yarn is beautiful! .
But of course it is discontinued. Naturally, I looked on Ebay because "you can find anything there". Except,
There are lots of things that are no more that really should be. My grandma must have loved her Tupperware lady (and who doesn't!?) because we had all the usual Tupperware toys. Which are now referred to as "vintage". Ouch. S
ome of my favorites were the the dishes, the stencils and busy blocks. Grandma must have thought we would eat the animals or something because I don't remember ever having those.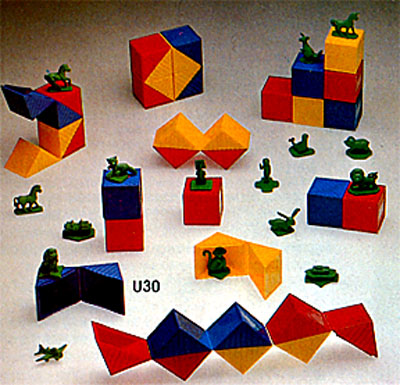 Tupperware Busy Blocks
We didn't have a lot of money growing up. But we still had the BEST time playing with what we had. One of my and my sister's favorite things to play with were these child size houses my dad made us. He had gotten some very large boxes. (like appliance boxes, but ours were from the local implement)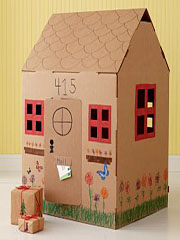 This isn't one of ours, but closely resembles it!
Of course we were free to color and draw and write whatever we wanted. It was wonderful! Anyone who has kids or has seen kids know what a huge hit any box can be. So imagine if they had a big one that looked like a house they designed!? Can't wait till the next time you buy a new washer or dryer? Hit up any of the appliance stores. I know they have more than enough cardboard. And I bet they wouldn't mind giving it away free!