I had something in mind today for a post. But then I got on Pinterest. And I honestly don't even remember what I was going to blog about. I came across a pic I just couldn't ignore. I eventually found the original post. And I couldn't help but share it with you because it is simply amazing.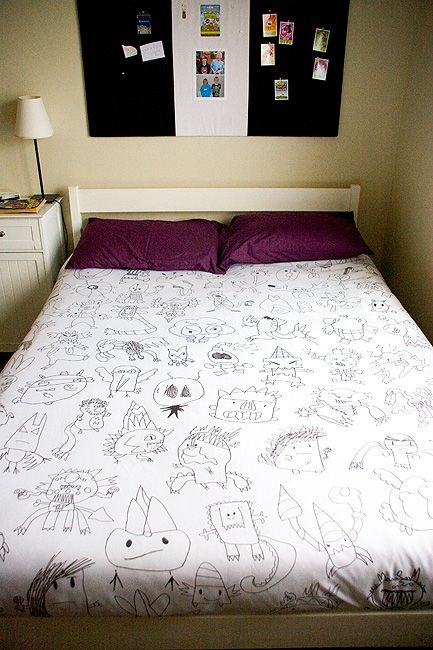 Click the picture to get to the tutorial
 
It's a duvet cover. A custom duvet cover. The drawings are by her son. Her blog post explains it very clearly and very well. It was a very time consuming process (in my opinion) but it turned out so amazing, I think it's worth it. I think another fun addition would be to find some colored fabric markers and let the little artist color them in. (depending on the age of the child obviously)
And if you didn't want a duvet cover for a bed, I think transforming this into a blanket would be quite easy as well. You could add fleece to the back of it or some cotton and some batting and make it like a quilt. Again, more time, but I think that would be awesome! In fact, I think I will wait until all of my kids are a little older, and then make one similar to this with drawings from all the kids and then make it into a family project. The end product would be kept in the living room for all of us to enjoy and use to snuggle with. THANK YOU JEN for sharing!